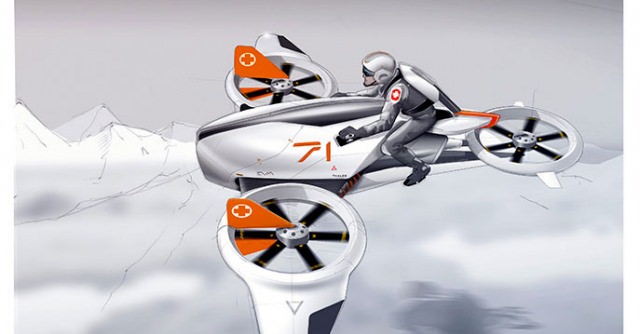 Jean-Baptiste Allaire Transportation Design - Graduation Project
AN INTERNATIONAL DESIGN SCHOOL IN PARIS
Fully recognized by the State and ranking among the top French design schools, following the "Grande Ecole" pattern, STRATE  has established itself among the 60 best Design establishments worldwide (Business Week ranking), and among the top 50 in Europe by DOMUS. It is also the first French private school in France. 
Officially Recognized by the French State
Why join Strate School of Design ? STRATE  is offering a Level 1 Industrial Designer diploma recognized by the French State.
Strate was officially recognized by the French State on December 7th 2015, rewarding the quality and level of the teachings delivered, its Research department, as well as its social policy.  
Starting with 18 students twenty years ago, the campus is now welcoming more than 600 of them. We have created 5 curriculums and have settled in Sèvres in 2010, on a brand new 3000 m2 campus. 
Our ambitions are as large as they are simple: we want to train dedicated professionals, focused on the human dimension of their work, and on the needs and desires of their contemporaries.
A Social Diversity Concern with Student Recruitment
Thanks to this State acknowledgment and based on specific social criteria and means test, some STRATE  students will have access to public scholarships. Applicants willing to enroll, as it is difficult for them to finance their studies, will thus be encouraged to do so.
"Talents are to be found in so many different  backgrounds,  and we do look forward  to welcoming  them" says Strate's headmaster Dominique Sciamma. 
Professional Training Handled by Experts
Sculpture, nude drawing, sketch, watercolor, rough sketching, colour: all visual arts classes are provided by full-fledged professionals mastering their art. 
Professional designers are in charge of methodology and project management training.
Marketing classes, technical skills, engineering and professional support are also provided by fully involved players in their own fields.   
Language and social science classes are delivered by certified teachers.
Recognized Player in the ecosystem of higher Design education
Created in 1993, STRATE  is now fully recognized as a major player and partner in French Design academic education. Throughout the years, it has built strong partnerships with several engineering universities, laying the groundwork to work with them in the future and at an international level. The Strate's foreign expansion projects – notably in Singapore, (omit 'in') India and Africa, should benefit from this overall professional network and recognition. In May 2017,  Strate created a double diploma with Science - Po, one, if not the most prominent French Institute of Political Studies. 
STRATE  offers different types of design programs training designers (5-year program) , modellers (3-year training) and innovative project managers (1-year) and other players in the design, research and innovation field through at least 5 curriculums.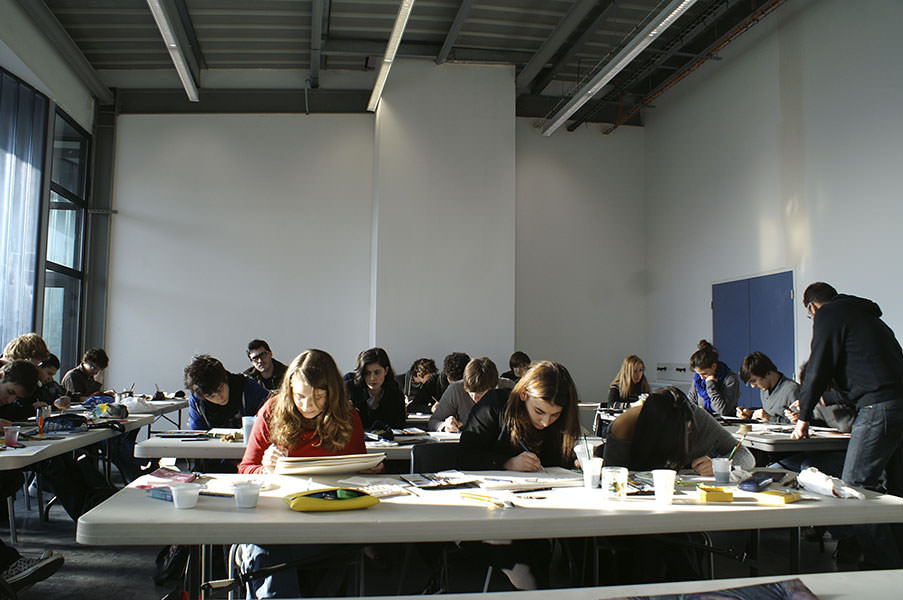 A 3000 m2 Campus near Paris
This building spans four stories and is organised in several spaces: classes, workshops, lectures, computer labs, daily activities, dining and chilling areas.
We are equipped with a 200 spaces lecture hall, 17 large and bright classrooms, 4 computer labs Mac and PC, and 5 different workshops. The state-of-the-art Machines workshop will allow you to craft your models and prototypes and work with all types of materials. It has evolved into a "FabLab", thanks to its digital part equipped with several 3D printers and a laser cutter / engraver.
Through its association with a local trader (Thomasse's  Bakery) STRATE has made sure that students are provided with quality catering service with diversified products and well balanced meals. Breakfast, lunch and all day snacks are available at very affordable cost.
Our campus overlooks the Isle Seguin and the parc de Brimborion, including its open-access sports facilities.
A Team Fully Dedicated to the Students
Standing close to our student community, our permanent staff display the precious  ability to guide and shape the evolution of our establishment by encouraging constant communication with and between students and teachers. 
Managed by Dominique Sciamma, Managing director & Dean, Strate is led by a team composed of 4 members :  
Sophie LEVEL : Head of Studies
Frederique PAIN : Research and Innovation Director
Didier CODRON : Head of Workshops
Pascal MITTELETTE : Finance & Accounting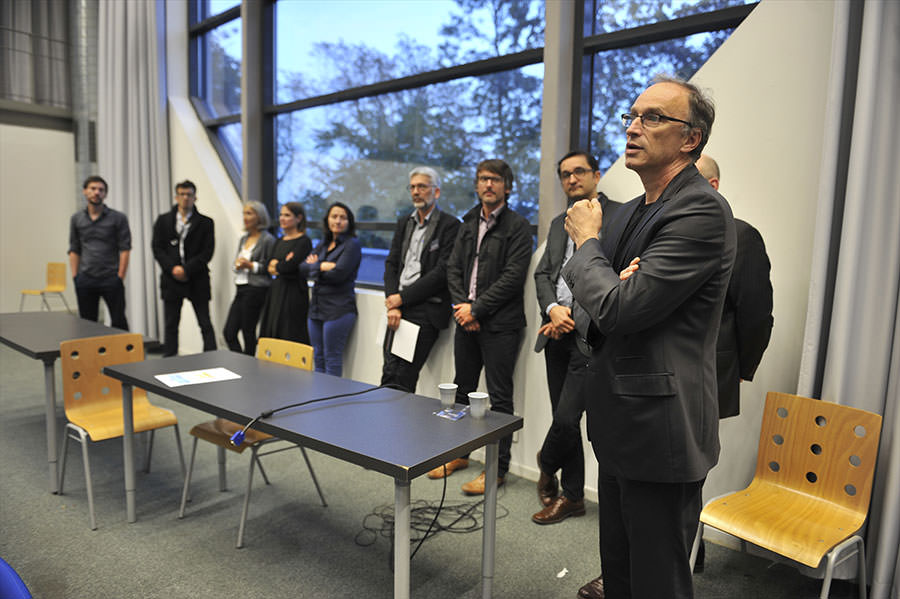 Strate is divided into 6 departments:
1 - Development  (D. SCIAMMA)
Fabrice LANGLAIS: Industrial and Corporate partnerships Supervisor
Sébastien KUNZ: Communications and Web Marketing Supervisor 
Sandrine HEE : Admissions 
Cécilia TALOPP : Head of International Affairs
2 – Studies (S.LEVEL)
Olivier BEUNE: Head, Product design department
Anne BUGUGNANI: Head, Space Design department
Damien LEGOIS: Head, Interaction design and Immersive Design departments
Mike LEVY: Head, Mobility design department
Gabriel CALLADINE: Head, Identity Design Department
Antoine DUFEU: Head, writing programs
Thibault GEZE: Internships, entrepreneurship
Karine LEMOIGNE: Programs Supervisor
Louise GALLIENNE-CAUVET: Programs Supervisor
Laura COSMA: Teaching Assistant
3 - Workshops (D.CODRON)
Richard SOARES: Workshops and Materials Supervisor
Alice ELSNER:Head of Workshop
4 – RESEARCH & INNOVATION (F. PAIN)
Ioana OCNARESCU: Research Professor
Estelle BERGER: Research Professor
Isabelle COSSIN: Researcher
5- CAMPUS (F.HOULETTE)
Omar BOUDERKENA: Computer and Printing Support
Philippe COURBARIE: Maintenance Supervisor and Technical Coordination
Seyed GOLLI: Maintenance 
6 - FINANCE & ACCOUNTING (P.CODELUPPI)
Hayat RAHEM: Accounting