Admission Criteria
Working adult looking for a new professional path
Degree
International certificate in Automotive Design Modeling
Build your career in digital modeling to give shape to tomorrow's vehicles
ICADme is an intensive training program for US citizens only, that will allow you to leap into the world of automotive 3D Modelling. The 8 month program includes: 4-month (600 hours) in-depth training of ALIAS 3D within Vintech LOS ANGELES + an additional 4-month hands-on training at Strate School of Design in PARIS. Following the immersion, you will continue to master 3D modelling and collaborate directly with automotive designers, essentially creating the link between design and the engineering studios.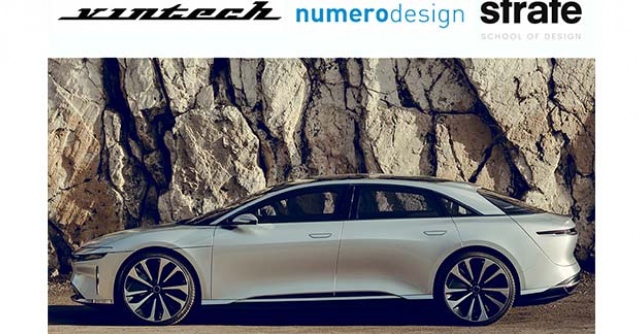 The program's
goal
1
Mastering 3D Tools and Methodology
At Vintech, you will learn digital modelling through the practice of drawing, 3D construction methods and an intense use of ALIAS, the leading digital 3D platform in automotive design.
2
Collaborating with Designers
At Strate, you will collaborate with a Master in Design student for 4 months.
As a 3D modeler, you will work directly with a transportation designer on his or her final degree project.
3
International environment
4 months in Los Angeles and 4 months in Paris studying Design: sketch and design methodology, 3D modelling: theoretical courses, methodology and practical exercises. Realistic rendering and animation and Communication and Customer relationship.
Career opportunities
You are passionate about cars and want to rapidly build a career in this industry? You are willing to combine a very technical expertise and a sensitive and artistic approach?
You want to collaborate with talented designers and transform dreams into realities? You want to build an international career in the 3D field?
This intense international program will quickly put you to work in some of the most advanced design studios in the USA or France. You are familiar with traditional physical modelling and you want to capitalize on your experience and go digital? You are drawn to 3D platforms but you don't know how to use it in a professional environment?
You want to reconnect with an ever changing and challenging setting, and experience the satisfaction of a creative career? You are ready to go head-on with an 8-month training marathon? Ready to transform yourself into a key automotive professional? Then the lCADme program is for you too! This program will give you the momentum necessary to expand your career.
3d animation degree - projects
A selection of 3d animations projects from our graduates.